Our Craft Brewer Partners






Enter the category for this item:
Australian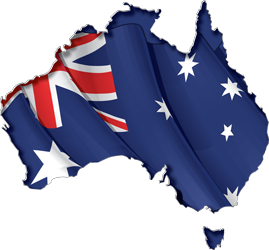 2014 sees Experienceit introduce the first of its Australian brewers to it portfolio, and like our International range, we don't just select any beer to be added to our portfolio. We have spent a lot of time searching out exceptional beers and brewers that share our passion. Our intent has been to select only those beers that demonstrate and represent the highest quality Australia has to offer and beers that we feel compliment and ever expanding international portfolio and that deliver a true experience. Our aim is to be a full service partner to both brewers and retailers and ensure we provide you with the best possible selection to fill your shelves. Expect to see our range expand as we grow our local focus and local support for the craft beer revolution.
Our Australian Brewer Partners
Enter the name for this tabbed section:
Nomad Brewing Company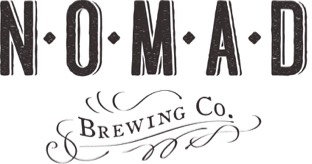 A solid focus on delivering unique beers that showcase traditional styles and Australian native ingredients. Not focused on the same old IPA's and Pale's. Focused on interesting and enjoyable styles with a clear objective to design beers which can be enjoyed with food.


They marry the best styles & techniques from around the world with Australia's phenomenal native ingredients. That's our thing.

Their Origin Story
A long time ago in a country far, far away (well, Italy) a love affair blossomed. It was a relationship between Global Top 100 brewer, Leonardo Di Vincenzo and Kerrie & Johnny Latta, a husband and wife team from the Northern Beaches, owners of Australia's largest craft beer distributors, Experience IT beverages.
After endless travel, negotiation and plenty of beers, the guys managed to persuade Brooks Carretta, Leonardo's brewing protege at Birra Del Borgo to pull up stumps and make the journey down under to Brookvale. He had two conditions: To never be restricted by fashions and trends and to use Australia's amazing native ingredients.
Almost two years on we Nomads continue to be restless creatures, driven by discovery of new tastes, beer knowledge, experiences and the people that make craft beer great. But no matter where we roam, the best journey is always the one home.

We are Nomad. Never Settle.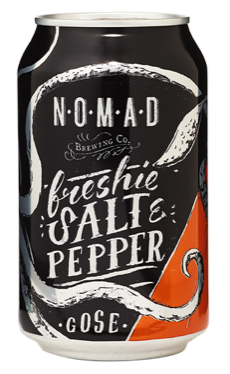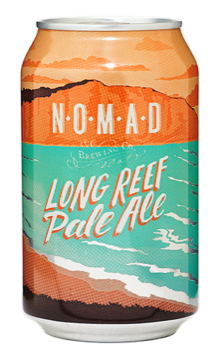 Enter the name for this tabbed section:
Blackman's

Located on the Victorian surfing coast in Torque. This fantastic small brewery is run by husband and wife team Jess and Renn, who would have to be some of the nicest people in the brewing community. A solid range of beers constantly evolving as they grow and a real speciality for unique and interesting lagers

At Blackman's brewery our philosophy is this: we love good beer, it's really that simple. We make our beers with the best quality ingredients we can get our hands on and we give our beers the right amount of time in tank, we don't rush them through to meet deadlines. Our core range is made up of beers that cover a variety of flavours and styles, we want to make good beer for everyone.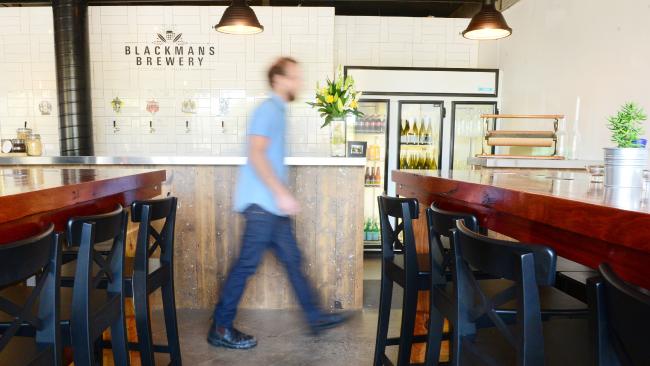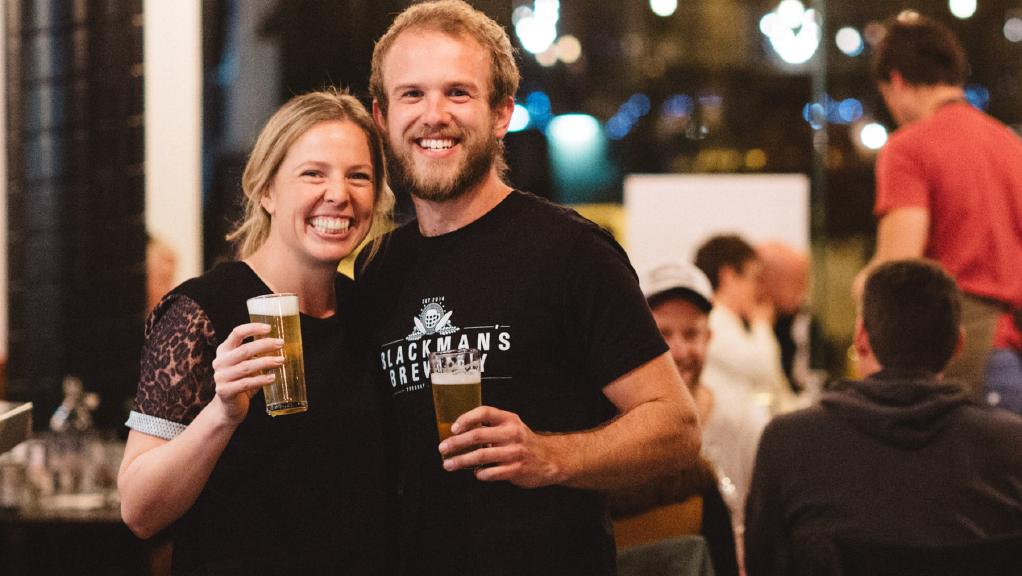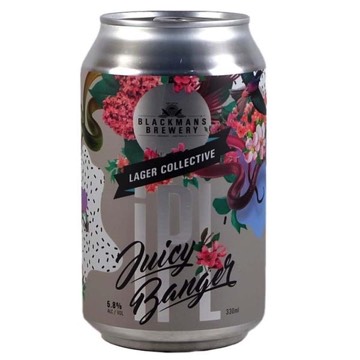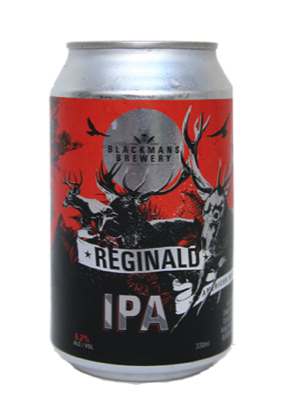 Enter the name for this tabbed section:
Doctors Orders

The Doctor is in the house, and he says, enjoy great beer!. One of our favourite Australian brewers, graces our range with his amazing selection of unique beers. Each month something new, and each month better than the last. Look out for his regular monthly offerings through the Trade Zone.


Doctor's Orders Brewing is all about special thought provoking and inspirational beers released seasonally, with availability across Australia currently on draft (including growler fills at specialty liquor stores) and 500mL bottles. The ethos is simple, produce beers that are intriguing based on emerging, historical and/or rare styles often with a twist but always with balance that enables you to have more than one.

Our mid seasonal beers are smaller draft only batch brews designed to be much bolder in flavour and style. They are only available at our regular craftier venues and when the keg(s) empty it's gone.

Doctor's Orders is affectionately referred to as a cuckoo brewer. The analogy with a cuckoo is that we don't have our own brewery (cuckoos take over other birds nests to lay their eggs). We take over our mates breweries to personally produce our beers. We also personally develop, market and sell each beer.

Currently we are brewing out of four Sydney breweries; the Australian Brewery (Rouse Hill), Rocks Brewing (Alexandria), Young Henry's (Newtown) and Nomad Brewing Co (Brookvale).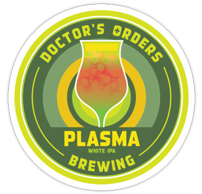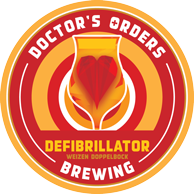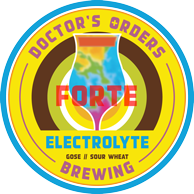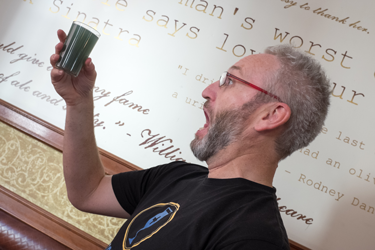 Enter the name for this tabbed section:
Yeastie Boys Australia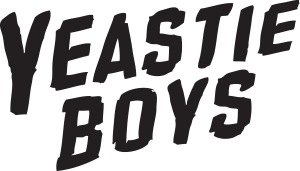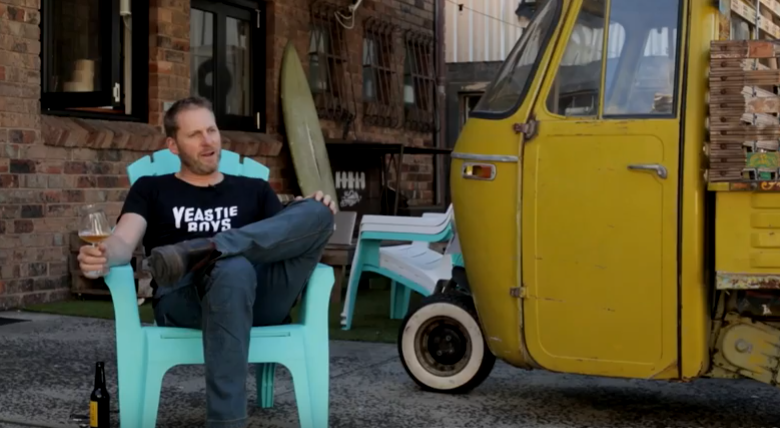 A partnership between The legends of New Zealand craft brewing and an Aussie craft beer nut Johnny Latta from Nomad and Experienceit. They've setup camp at Nomad Brewing Co. on Sydney's Northern Beaches, started a new local Yeastie Boys Australia Company with its own specific focus and are delivering brewed fresh beers from a mixture of core range beers and some delicious one off beers like Royal Tanninbomb,

Expect, diverse and interesting beers with that classic Yeastie Boys touch.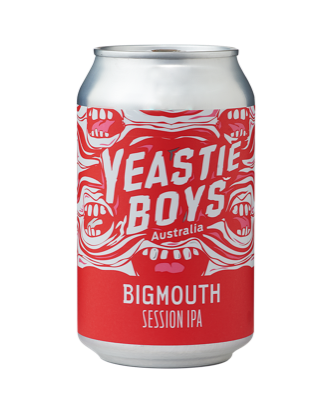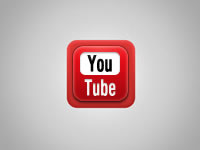 Enter the category for this item:
Scandinavia

There is more than one great Danish brewer! In our never ending quest for great International craft beer we are very proud to add to our range a fantastic brewer that for years has been closely associated with Mikkeller (and still is). From 2013 our aim is to bring this brewer out from the shadow of Mikkeller and give it a life of its own in Australia.
Our Scandinavian Brewer Partners
Enter the name for this tabbed section:
To Øl …. "Two beers"

One or our best selling ranges from the EU. Always unique and pushing new beer boundaries
The story
In 2005 Tobias Emil Jensen and Tore Gynther were sitting at their old college talking to their teacher Mikkel Borg Bjergsø (Mikkeller) about it being a shame, that most Danish breweries was scrambling to describe how their beers had been brewed for over 100 years, rather than focusing on the actual taste and content of the beer (as if a stale lager ever has become less nauseous by the fact that it has been brewed for over 100 years!?) The three of them agreed that the only way to ensure the quality was to brew the beers themselves. So they did. Soon they were allowed to borrow the schools' kitchen during the schools' closing hours and they began to brew. This meant however that most of the brews were made between the hours of 10 pm and 6 am on weekdays, which resulted in some hard school days for both the two pupils and their teacher, but the hunt for quality and potent beers had begun and a concept of never making compromises with the quality was founded.
Later Mikkel started the brewery Mikkeller, which has garnered wide international recognition, while Tobias and Tore continued to craft brew until they in 2010 found that their brewery To Øl (Danish for Two Beers) was now ripe to make its first commercial brew. The word spread fast and as Mikkel heard his old students plans, he insisted on making a collaborative brew between Mikkeller and To Øl, which became the first beer to release from To Øl – Overall IIPA. Ever since then To Øl has continued to brew beers that pushes the boundaries of beers. The approach is to always use the best raw materials, never make compromises with the taste, don't follow fashion or certain styles and always have an open mind.
Despite the short lifetime of To Øl, the brewery has already gained a huge amount of positive attention in craft beer societies around the world for their non-compromises made with the quality brewing style, and they are now exporting to over 20 different countries including Chile, Mexico, USA, Canada, Estonia, Latvia, Sweden, Finland, Iceland, Germany, Belgium, Poland, Czech Republic, France, UK, Ireland, Spain, Italy, Japan, Singapore and Australia.

The Brewery
Let's get this straight – They are what's called a gypsy brewery (or Pirate/Nomad/Contract/Gold Digger Brewery). This means that we don't own our own brewing equipment, but brew at other breweries instead. We do this because we think it is the absolute best way to ensure the highest quality, the widest variety and continually being able to reinvent ourself and the beers we brew. At the same time it is a way to make brewing social. Instead of turning grey by the fermenters, we want to meet and talk to people all around the world. We are gypsies and we are proud of it.
So in short: If you want to visit our brewery, then it is not because they are un-polite snobs that they say no.

The beer
To Øl wishes to make potent beers, packed with flavour and character. Beer, which you do not forget easily (unless you just had too many). We make beers with an edge and with a drive and prefers quality way before quantity. We love session beers, we love complex beasty beers. In short, we want to make the best beers in the world. Period.

The Vision
When they started the brewery, they took some time to emphasise the main visions for the brewery. They simplified the brewery this way – They want to:
Give beer some youth – They don't want to hear about hundred year old breweries. Age only withers; it does not improve the recipe. They are not attempting to copy old beer from old breweries, instead they do contemporary beer and believe that you are never better than your last brew. They would instantly trash a beer if it turned obsolete or blunt. Meanwhile the general beverage for young people is syrup-sweet fruit alcohol beverages and apparently they add the ingredient "ice cold" to the beer. No! – They believe that young people want a good potent beer (At least they do…)
Stay away from supermarkets – If being in a supermarket means, that they have to make compromises with the quality of the ingredients that they use, then they rather stop brewing beers. Have a drive and edge – Their goal is to provoke and push the boundaries for the very perception of beer. Meanwhile they just want to have fun doing it. They never forget that they are making beer and not politics!
Let the beer carry the message – but it's fun to provoke, inspire and communicate through different kinds of media. But in the end, the quality of the beer should be the best story, nothing else.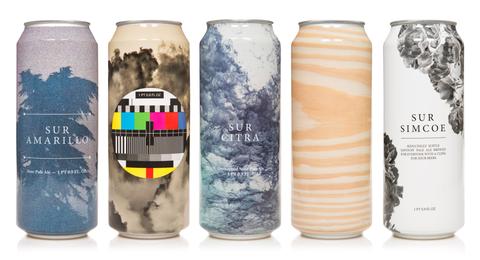 Not your average brewers!, Expect something a little left of centre!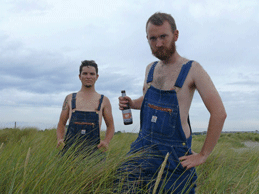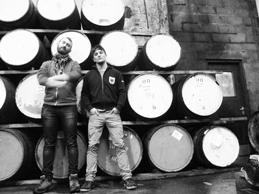 Enter the name for this tabbed section:
Lervig

Enter the name for this tabbed section:
Amundsen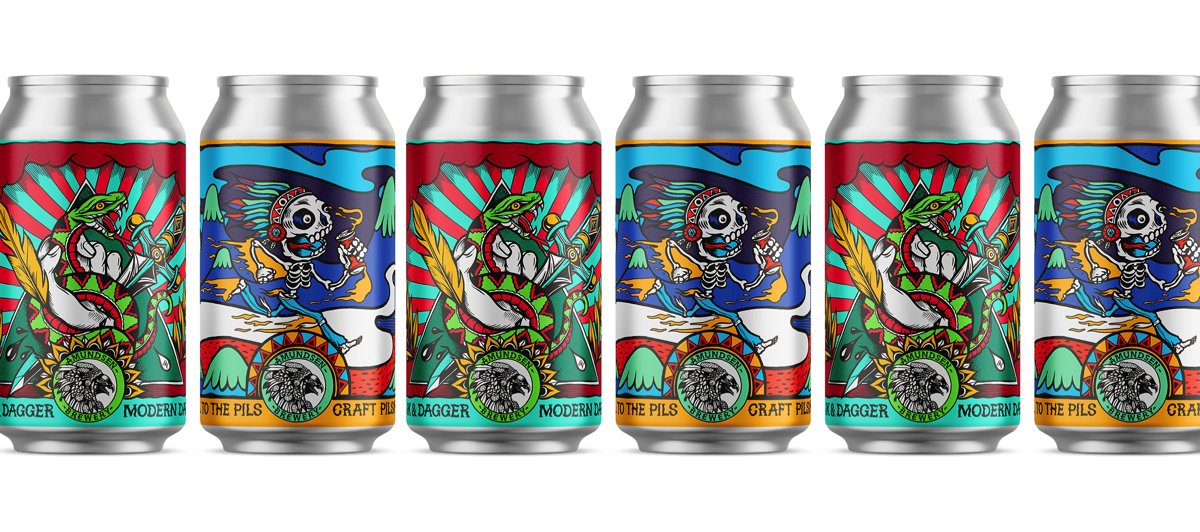 Enter the category for this item:
English

The UK beer market is one of the most interesting in the world, and for us one of the most exciting to work with as we see a rapid change from traditional real Ale, to a massive influx of new and exciting craft brewers all with their own unique edge and focus.

Frequently UK brewers rate in the worlds top 100, with many brews in our portfolio receiving the coveted "Best New Brewer" award on rate Beer.

The market that invented the IPA style, still leads it's development, and has some of the most interesting brewers in the world right now and at EI we represent the best of the best!
Our English Brewer Partners
Enter the category for this item:
Italian

How it all started. Experienceit started its life as Birra Italiana, and was driven by a passion for all things Italian. Years later and under our new name Experienceit, our focus still remains on high quality Italian brews.

Unbeknown to most people Italy has a high quality craft brew industry which rates in the top 5 globally,. They've created their own unique style through blending global styles and local traditions. What makes Italian craft brew especially good is the quality of the ingredients (alpine water and the use of fresh local ingredients in unique beers) and the passion that goes into the production. As a guide to the quality of the beer and Italians lust for quality, most of the 750ml bottles will sell for more than a good bottle of wine, retailing for between €10 and €14 per bottle. ($13-$18) and in Australian current equivalent craft beers from Italy retail for $28-$30+

While you will see and hear familiar terms like Belgium or German style ales, IPA, Lager etc, we can guarantee the beers we have selected have all put their own unique style to the old traditions and created a truly Italian beer for all to enjoy. Italians strongly believe that alcohol and food are intertwined and as such all the beers are designed to compliment food.

Described by many as only second to the Americans when it comes to cutting edge beers, the Italians really deliver a high quality product full of that great Italian passion. If you love beer then your missing something if you've never had a
true
Italian craft!
Enter the name for this tabbed section:
Brewfist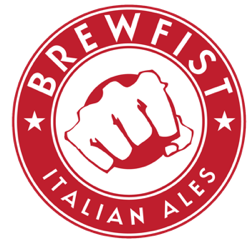 It was Brewfist that started it all and was our 1st brewery along with Birra Del Borgo to kick off our business.

An exciting brewery started by a bunch of young guys with a passion for beer. Located between Parma and Milan in the small town of Codogno. Pietro one of the leading players, cut his their teeth working for the legendary Fullers in the UK, Returning home to Italy a number of years ago to follow his passion for the amber liquid and to help in the drive to create a new Italian craft beer revolution. With Andrea his partner a passionate brewer that worked with Pietro at another brewery before launching out on their own, they have set a high standard that delivers a unique and satisfying drinking experience.
They have managed to deliver their own unique style to the Italian craft brewing scene and in just over 2 years of operations have already developed a collaboration beer "Caterpillar with legendary gypsy brewer "Beer Here".

Their slogan "More beer, more people" gives you a hint to their focus and passion combined with edgy artwork and bottle graphics make this both a real pleasure to drink and a highly attractive product to grace any bar fridge or shop shelf.

If starting and running a brewery is not enough, in March 2012, they opened their now brew pub and they have a number of new brews in the pipeline so we are expecting big things from


Website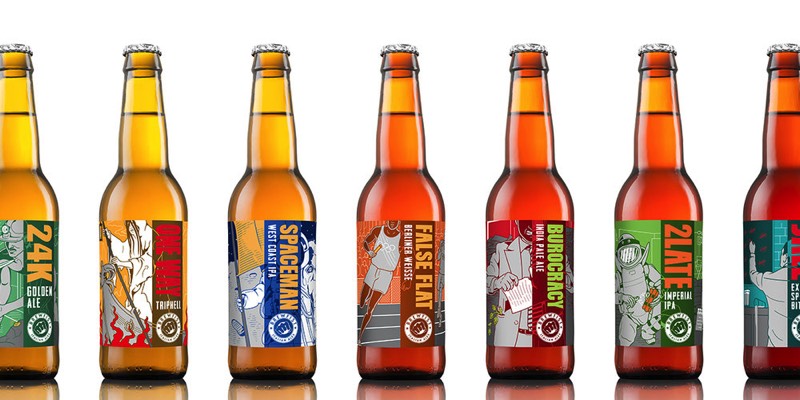 Enter the name for this tabbed section:
LoverBeer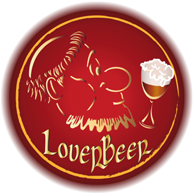 Loverbeer was a brewery we had known for a while and to be honest had overlooked a number of times. In the early days sour beers did not excite us but the more we became involved in the industry and the more our tastes evolved the more our interest in sour beers grew.
Loverbeer is actually the last name of head brewer "lover" (great name). They are known across Italy and Europe as a master brewer of small batch sour beers that follow tradition and give the Belgium's a run for their money. A small scale brewer with lots of passion and an attention to detail that few others can master. With a beautiful selection of beers that really highlight the best of their styles and show the diverse nature of the evolving Italian beer scene.

So the Story goes:
Legend has it that in a faraway place, in a time which now has no memory, a young monaco Trappist managed to escape the siege of the monastery where he had lived ever since. He wandered the lands and countries hitherto unknown to him, and along the way he came upon a comely maiden who joined him on the journey.

One night the monaco saw in a dream his grandfather - "Take with you the girl," she said, "and make it your bride. I entrust you for life. "

Upon awakening, interpreting that dream as a divine message, the young man decided without hesitation to abandon the habit and marry the girl.

After a long wandering the two decided to settle in a small village in the region of Calvados and the people there, intrigued, asked them who they were and where they came from.

The young man said he had been a laborer, and so took the name of The ouvrier that in his native language meant precisely the worker. But he decided to devote the rest of his life to do something that gave him immense satisfaction: beer.

Many years later, one of his descendants had to flee again from the latest war and moved to Italy, in the beautiful hills of Roero, where his surname was Italianate in Loverier.

A few generations later, here I LoverBeer are to pick up the long brewing heritage ...

Their love for beer originated at the beginning of the new millennium when, as a birthday gift, he received his first fermenter. From now on he became a drinker more alert and began to experiment in the art homebrewing.

To his great satisfaction the experiments produced at home gathered broad consensus, not just among friends and occasional consumers but also among industry experts. A few years later Kuaska, considered the most experienced Italian and Belgian reviewer for years and careful promoter of Italian craft beer in the world, she called him one of the best Italian homebrewers, encouraging Lover to enter the professional world.

"All this food is my passion, to the point that I decided to turn this activity into a trade, while remaining true to what in recent years has characterized my beers: the search for a quality product that will combine the tradition of the most authentic beer styles with the land where I was born and lived."

Experience sour beer Italian style!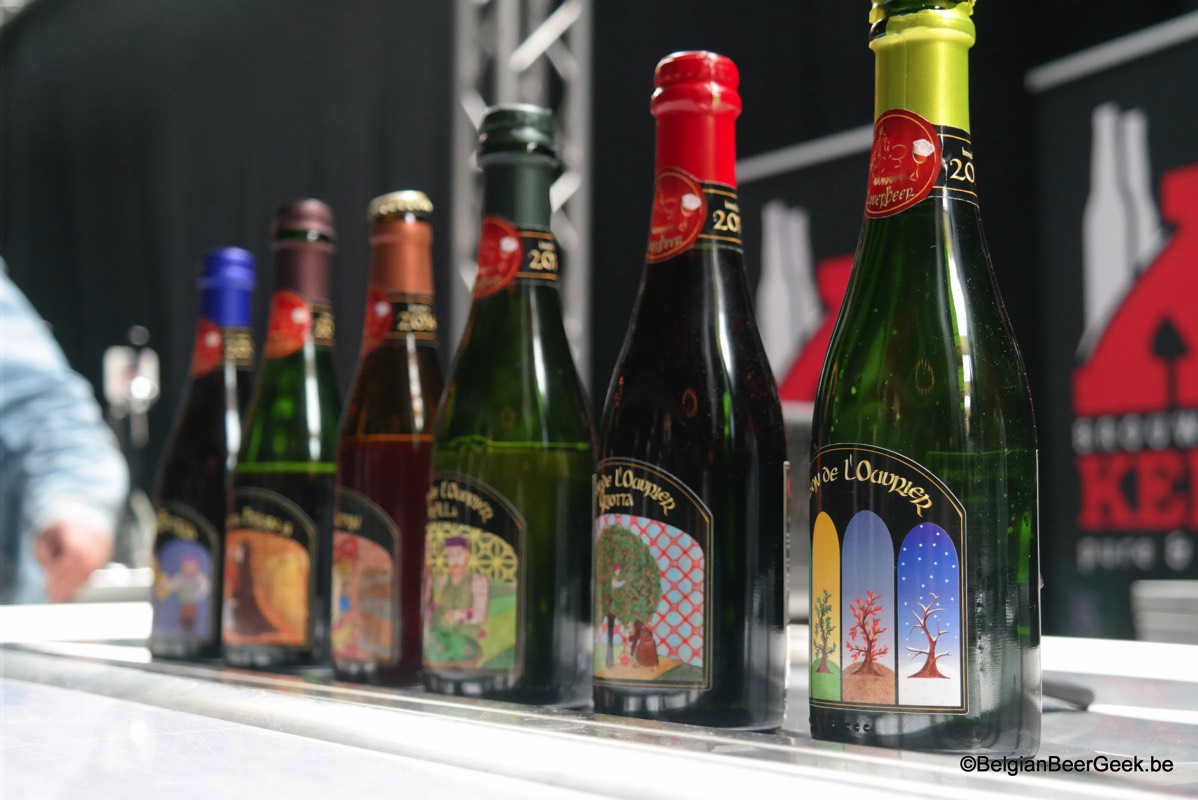 Enter the name for this tabbed section:
Ducato

Beginning in 2007, Ducato Microbrewery is today one of Italy's most awarded Italian breweries. It is located in Roncole Verdi, a small village in the Parma region, birth place of the world renowned composer Giuseppe Verdi and also home land of the famed Parma ham (Prosciutto) and fizzy wines such as Lambrusco and Malvasia. A land portraying a history of daily sacrifices and great passion. Holding a BA in Food Science and Technology and a past as home brewer, Giovanni Campari is the radical and visionary Brewmaster. Manuel Piccoli is the brewery's executive entrepreneurial mind with a precise vision for growth and development. Thanks to their skills and commitment, Ducato performance in national and international beer awards speaks for itself to the quality of their product. It is currently exporting more than 15% of its production to the US, Canada, Brazil, Norway, Sweden, Spain and Japan, seeing a 80% constant growth rate in its total annual volume of business. And now G'day down under!
As a leading figure in the Italian craft brewers association Giovanni is sure to be a partner that will help develop a strong brand in Australia.


Awards include:

In
2008
Verdi Imperial Stout ranked first at the "European Beer Start" in Germany marking the first time in history an Italian artisan beer has ever won an international contest.
In
2009
, Nuova Mattina (the American version of New Morning) was listed as one of the world's top 25 beers in both "Draft" and "The Wine Enthusiast" magazines.
In
2010
, VIA EMILIA won the silver medal at the "World Beer Cup", the world's most renowned beer competition held in the USA biannually. Also, The International Beer Challenge in London awarded the Black Jack Verdi Imperial Stout with 2 gold medals. Sally Brown "Baracco" won 2 silver and a bronze. Although it had only been 3 years since production first began, all Ducato's beers received awards.

In Italy they were crowned "Brewery of the year 2010" and went on winning 4 medals, with VIA EMILA receiving a gold at the European Beer Star in Nurnberg, Germany.
In
2011
Ducato was once again crowned "Brewery of the Year" being the first brewery ever to be awarded twice in a row in Italy. It also won 7 medals at the European Beer Star's with Beersel Morning and Sally Brown receiving a gold award each.

So watch out for this range on pre-sale for August and experience first hand the quality and style of Ducato!

Enter the category for this item:
U.S.A

The US has been leading the craft beer revolution for many years in both style and experimentation. A constantly evolving and developing industry forecast to double in the coming years. While there are 1000's of brewers, many brew a style that is good but not great. Our aim like all our markets, is to find the best examples of brewers and beers that are continually evolving and pushing the boundaries. We don't hunt the good, we hunt the exceptional. Our latest expansion will see a selected range of very special US craft brewers join our portfolio and the Roman Empire from 2013. These include Six Point from Brooklyn, Clown Shoes from Boston, Brash and the very experimental Jester King from Texas and the masters at Jolly Pumpkin, plus a few more surprises along the way

Stay tuned for details on our web…Coming soon.
Our American Brewer Partners
Enter the name for this tabbed section:
Stone Brewing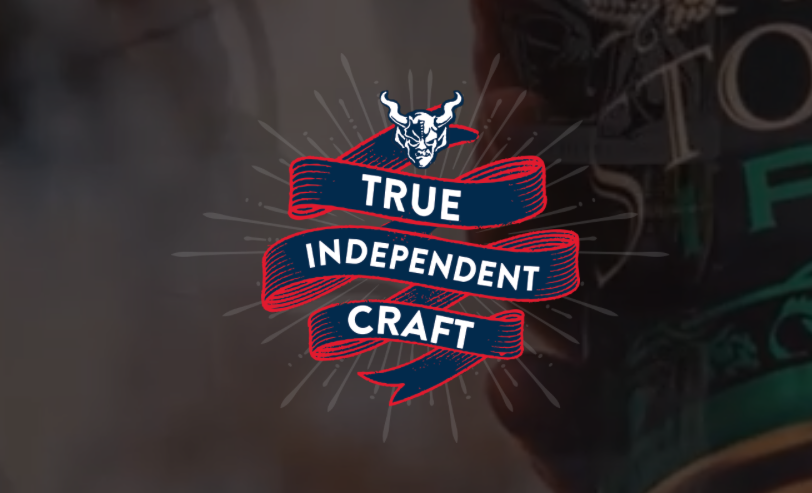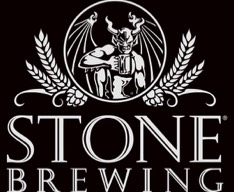 The pioneers of the West Coast IPA style and one of the true brewing godfathers of the U.S.
When we first started our distribution business we had no idea that one day it would lead to us representing one of the worlds top brewers. Our first introduction to Stone was actually through Dogfish head. During a visit to Dogfish, (which just happened to be week before CBC), Sam suggested we attend a Stone and Dogfish event that was happening as part of CBC. So without any second thought, off we went. Its took us another 3 years from that date to finally get to the point that we are now extremely proud to count Stone as one of our core brewery partners.
headquartered in Escondido Calirfornia USA, it is the largest brewery in Southern California. As of 2012, it was the 10th largest craft brewery in the Unites States and 17th largest brewery overall, based on sales volume.
[3]

Established in 1996, the brewery's first beer was Stone Pale Ale. Most of their beers are characteristic of west-coast craft brews, meaning that they have a high hop content. Compared to the macro-produced lagers, many Stone brews feature alcohol percentages that are well above average. The alcohol-by-volume content of Stone brews ranges from 4.2% to 13%.
Stone Brewing is rated as a "world class brewery" by the two largest beer enthusiast websites, Rate Beer and Beer Advocate. Stone Brewing has been voted by the readers of Beer Advocate as the #1 "All Time Top Brewery on Planet Earth.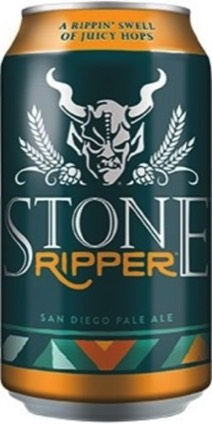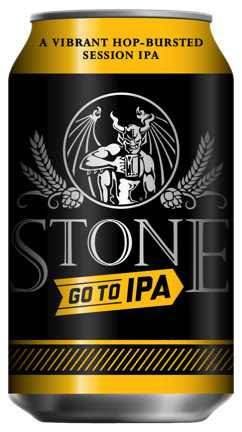 Enter the name for this tabbed section:
Deschutes Brewery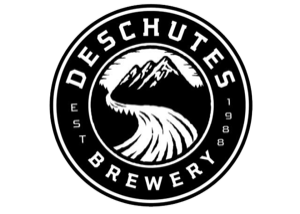 If you're a fan of US craft beers then you'll know of this iconic brewer. One of the founding fathers of the US craft beer movement in what some would say is the heartland of US craft beer , Oregon. Like we do with all of our brewers, we made the trip to Bend to visit and share a beer. Not only was Bend an amazing adventure playground set in picture postcard surrounds, but the team was incredibly welcoming and wanted to show how committed they are to support the Australia market. With a great selection of beers and a great story behind it, these beers will be a permanent part of our core range.

Gary Fish established The Deschutes Brewery & Public House in beautiful Bend Oregon, in 1998. Set in picture postcard surrounds and overlooking the wild and scenic Deschutes River, this is a must on any brewery tour of the area. Gary quickly created a reputation for the highest quality and adventurous beers that have gone on to create an award-winning lineup that continues to expand. Initially started as a brew pub selling 310 barrels in its first year and rapidly securing a loyal and ever demanding fan base that wanted their beers outside of Bend. By 1992 production had jumped to 3954 barrels. Unable to keep up with the demand from their original facility, the brewhouse moved out of the pub and into an expanded 16,000-square foot new production brewery, which opened in 1993, with a maximum capacity of 50-barrel batches. The original brewpub brew house remained, and is used to this day to experiment, and create new beers that are first tested in their brewpub venue before making the transition to the main brewhouse. Recently the production brew house has further expanded, which means Australia can now get some of their beers , in 2012 they expanded the facility by 627 m2 , allowing for an additional 105,000 barrels to be brewed every year supported by 2 production brew houses. In 2013 they added new fermenting tanks and a long list of new equipment designed to limit the impact on the environment and ensure maximum quality of their beers. As well as their original Bend Brewpub, they also have a brewpub in Portland which opened in 2008 brewing fresh beers on premises This is an exciting new addition to our US line-up and with the support of Deschutes will become an Australian favourite over the coming years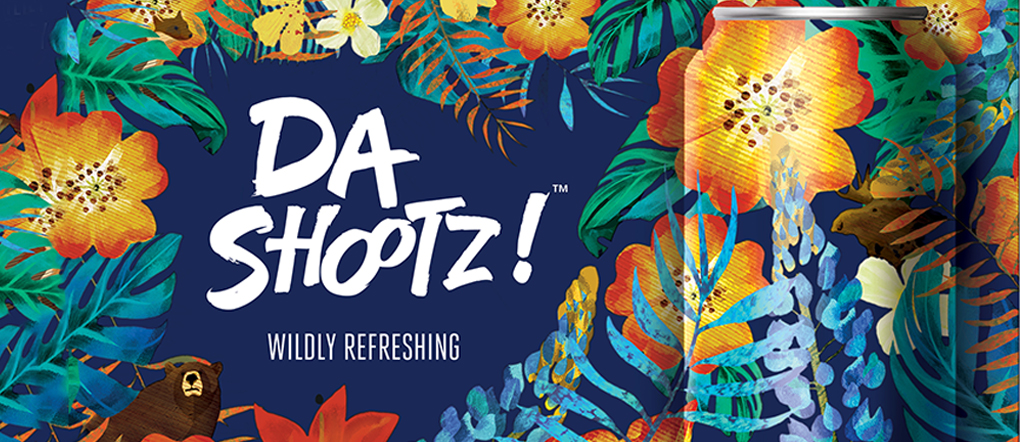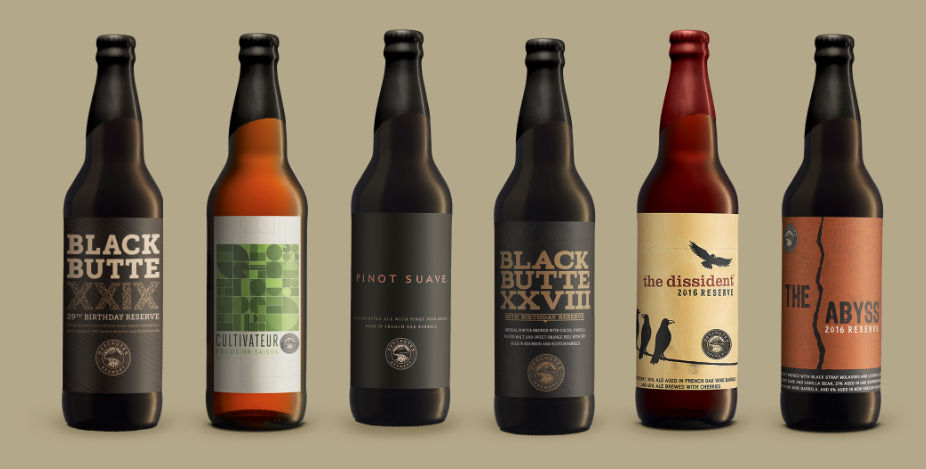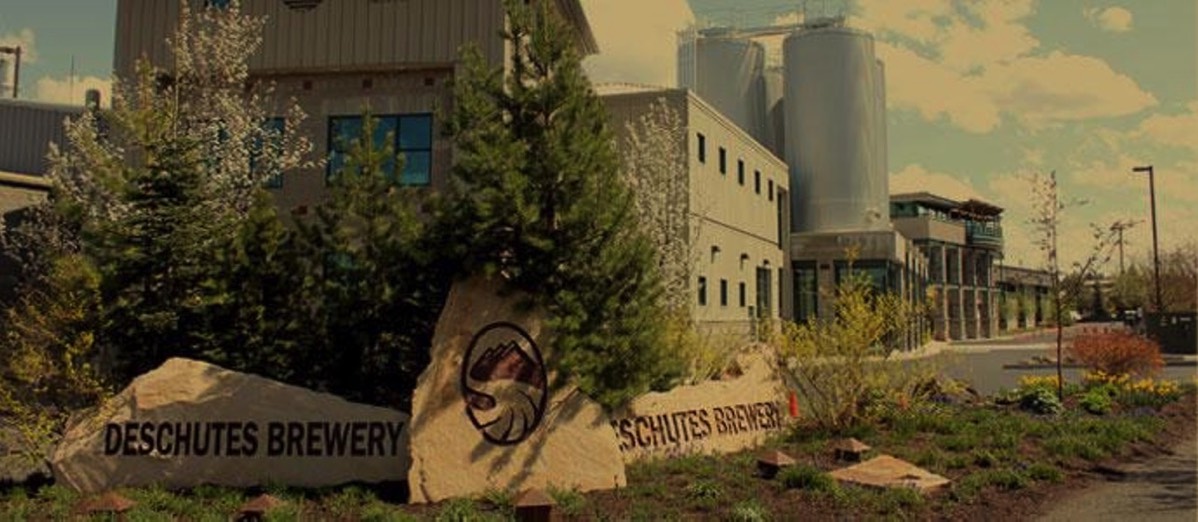 Enter the name for this tabbed section:
AleSmith Brewery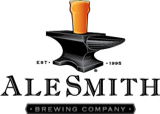 One of the highest award San Diego brewers with their IPA being rated in the top 10 of global IPA's and a range inspired by Belgium tradition and American hop forwardness. Added to our range in 2016.

The AleSmith Story
Founded in 1995, AleSmith Brewing Company is a San Diego based artisanal craft brewery that specializes in handcrafted ales inspired by the European classics. Deeply rooted in the amateur and craft brewing communities, AleSmith ales have continued to garner both national and international awards. In 2015, AleSmith celebrated its 20th year in production by opening a new state-of-the-art brewery in Miramar at 9990 AleSmith Court (formerly Empire Street). "AleSmith 2.0" features an entirely new tasting room and brew system with the capability to pump out more than 100,000 barrels/year only two blocks west of the original location. Please come visit us and taste the legendary craftsmanship for yourself.

1995: Humble Beginnings
AleSmith Brewing Company is founded in a small single-unit space in the commercial district of Miramar, San Diego and packed with a 15 bbl brew system, tasting bar, office, and a three-man team.

1998: Horny Devil Starts a Trend
AleSmith's Belgian Golden Strong Ale brewed with Coriander wins over the crowd at Great American Beer Festival and brings home a shiny silver souvenir, paving the way for 17 more upcoming medals in future GABF Competitions alone.

2002: Change of Hands
Grand Master Judge and decorated home brewer Peter Zien takes ownership, solidifying AleSmith's reputation for brewing legendary, hand-forged ales.

2003: The Barrel Age
AleSmith rocks the world's beer community with its first release from the barrel, the epic Barrel Aged Speedway Stout. This 12% ABV beast hibernates in bourbon barrels and has been consistently recognized as one of the best beers in the world.

2008: The Big Year
AleSmith is awarded 2008 Small Brewing Company and Brewer of the Year at Great American Beer Festival. New brew system increases brewing capacity from 15bbl to 30bbl.

2012: New Image, New Bottler, Same Recipe
Updated logo and bottle art visually defines the AleSmith brand. Premium Prospero bottler is installed to increase efficiency, quality, and reach a new output level of 15,000 bbls/year.

2014: Artisanal Expansion
Rated #1 Best Brewery in the World and Rated #1 Brewery in California based on consumer reviews at RateBeer.com. AleSmith now includes over 30 dedicated team members, multiple departments, five spacious units, and an impressive line-up of award winning brews.

2015: Forging Ahead
AleSmith closes its original location off of Cabot Drive and expands into a 100,000 sq.ft. facility, increases production, and launches new markets on a global scale. AleSmith's new state-of-the-art brewery, located at 9990 AleSmith Court (only two blocks west of the original facility), showcases a custom Steinecker 80 bbl brew system, San Diego's largest tasting room, and the Tony Gwynn Museum.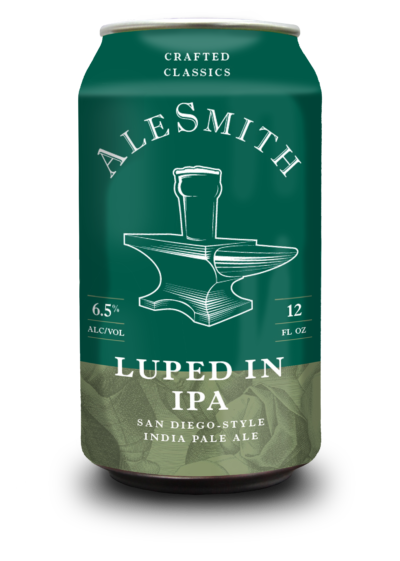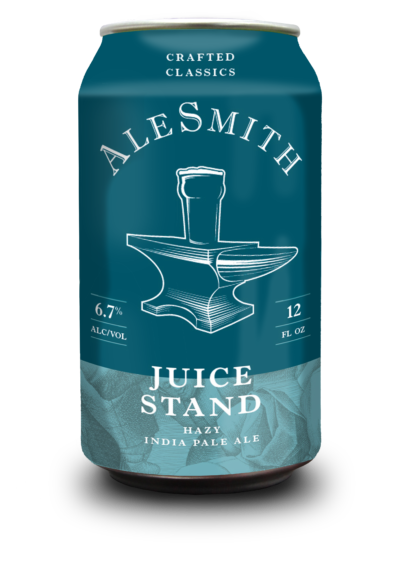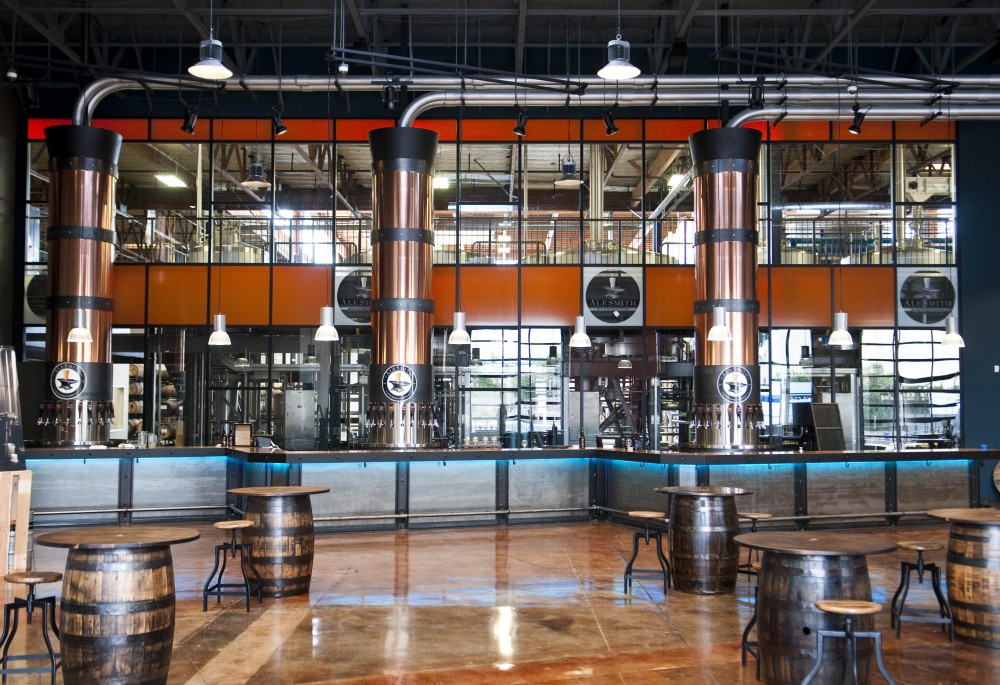 Enter the name for this tabbed section:
Victory Brewing

Victory was one of the first US brewers we approached when we started our business, but at that time they had another distributor. Never one to give up hope, the opportunity came along to re-start discussions after their initial distribution partner closed up shop and never did anything significant with the brand. After a number of phone calls and emails with a few knock-backs , we decided to make the trip and meet face to face and beg for a chance to play :-)

And that trip paid off, with both a great tasting session and then the ok lets do it!, so finally we can work with one of the US brands we have admired for some time and work closely with them to launch this brand properly into the Australian market and support it as a long term part of our core range.

About Victory:


Based on the East Coast of the Unites States and consistently voted as one of the top 100 brewers in the world (Rate Beer), and recognised as one of America's leading brewers.


The story of Victory Brewing Company starts on a school bus in 1973 when fifth-graders Ron Barchet and Bill Covaleski stepped aboard, on their way to a new school. The two became fast friends and remained so, even as they grew up and went to college on opposite coasts.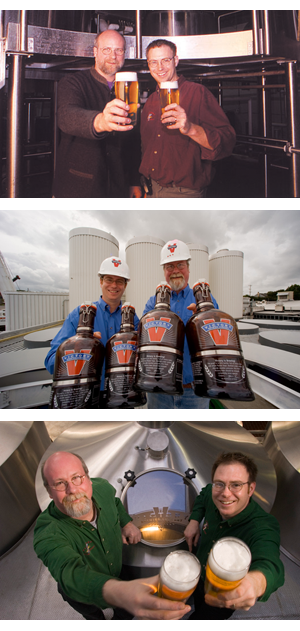 Just months out of college, Bill's appreciation of good beer and access to his father's home brewing equipment inspired him to explore the hobby. That same year (1985), Bill gave Ron a home brewing kit as a Christmas gift. With that, both Bill and Ron developed their love of the craft, and a friendly rivalry grew between the two. The good-natured competition pushed Bill and Ron to become accomplished home brewers, and as they both grew disillusioned with their jobs in the corporate world they realized their combined skill and love of brewing could pave the path to successful careers as brewers.
Ron left his job as a financial analyst and started an apprenticeship at Baltimore Brewing Company (BBC), working under a Dutch-born and German-trained brewer named Theo DeGroen. After working there for nearly a year, Ron had the necessary prerequisites to move on to study at the Technical University of Munich at Weihenstephan.
Immediately upon Ron's departure, Bill took over his emptied role in Baltimore. While Ron was enhancing his German brewing knowledge, Bill was expanding the line of beers produced at the BBC to include several German specialty beers, many of which went on to win multiple awards at the Great American Beer Festival. After his time at BBC, Bill completed his brewing studies by traveling to Munich, Germany to attend Doemens Institute.
After Ron's year of education in Munich, he returned stateside and took a role at Old Dominion Brewing Company in Virginia. Over the course of four year as the brewmaster there, he helped to increase production from 1,500 barrels annually to nearly 15,000.
With knowledge, experience and a love of quality beer in place, Bill and Ron decided they were ready to open their own brewery near where they first met in Pennsylvania.
Victory Brewing Company opened its doors to the public on Feb. 15, 1996. What was once a Pepperidge Farm factory became home to a 144-seat restaurant, 70-foot-long bar and a full-scale brewery. In its first year, Victory Brewing Company brewed 1,725 barrels of beer.
Since then, Victory has increased the size of the restaurant to 300 seats. The brewery has also expanded, producing 93,196 barrels of beer in 2012. As loyal craft beer drinkers continue to show their dedication to flavorful, quality beer, Victory plans to continue its own growth. Onward to Victory!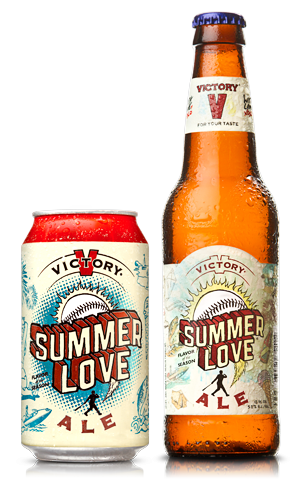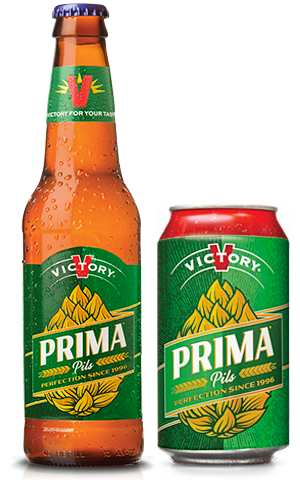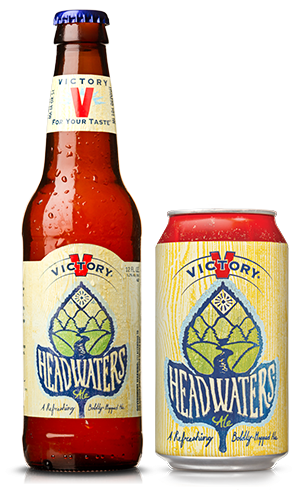 Enter the name for this tabbed section:
The Bruery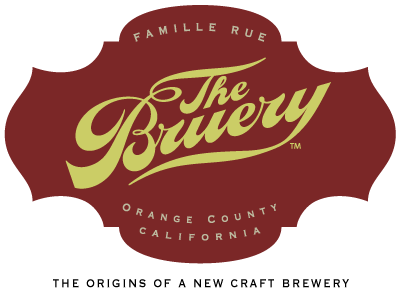 The Bruery is a boutique craft brewery located in Orange County, CA specializing in barrel aged and experimental ales. Founded as a small, friend & family run business in 2008, The Bruery takes it's unique moniker from founder Patrick Rue's family surname.
Patrick picked up homebrewing as a hobby, later to become an obsession, as a distraction to the banality of law school. Soon he was winning numerous awards for his beers and driving his wife, Rachel, mad with the messes that he would leave on the kitchen stove. Upon finishing school, he took it upon himself to draw up a business plan rather than study for the California Bar exam – a risky endeavor that shows through still today in the creative, genre-tilting beers that The Bruery prides itself on.
The Bruery is founded on the excitement that Patrick felt in those first years of homebrewing and we continue to strive for that same passion in every aspect of our business today. We never stop challenging ourselves to develop distinctive & imaginative beers, constantly pursuing improvement in all that we do. We brew dozens of original beers each year with our list of ingredients and inspirations growing perpetually. Our collection of oak barrels has also become a primary element of our brewery. Nearly half of our beer is aged in wine or spirit barrels bringing forth flavors reminiscent of the Belgian countryside or classic American distillers.
We greatly value our customers as well as our employees at The Bruery and want to give them all an impassioned way to spend their time while sharing a beer worth talking about.

Enter the name for this tabbed section:
Clown Shoes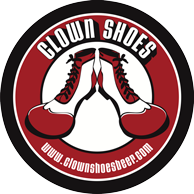 We've known Clown Shoes beer for some time and the few we had tried we loved. As with all our beer adventures the 1st point of call was to arrange a visit and head up to see them, have a beer and discuss getting some of their beers down-under. Clown Shoes had been in Oz before but the journey it had taken to get here, and the landed price was a little crazy. It had all gone from Boston to Denmark and then on another ship to Oz (unbeknown to the brewer). So in short if you've had a Clown Shoes in Australia then forget it, as its not tasting as good as it should! So now that is about to change as the Romans have their hands on it :-)

Located about 45 minutes out of central Boston, they are a sort of Gypsy brewer, although they have a bit more of a partnership with their brewing company "Mercury" which also brews the local Ipswich craft beer. So its not like the Scandinavian Gypsy's we all know and love, they are at the brewery daily and take an active role in the day to day brewing and management of their beers and the head brewer has input into the recipes and their development.

The name Clown Shoes? Its apparently a long story but the condensed version is, A group of mates submitted the name to a Beer Advocate contest that was being held in Boston as part of a local craft beer show. The contest was to name a new Dogfish Head beer that had been especially brewed. That contest resulted in the new beer from DFH being called "Wrath of Pecant". To the disgust of the mates, the name they thought was a shoe in, did not even crack the top 5. This burned them up and while driving one day the epiphany came to creator Gregg Berman: "I can make my own Clown Shoes beer".

In no way did he expect to create a brand, the thought was a one off batch of beer for fun to be enjoyed between his mates, and thats it. But the first beer tasted great and everyone was excited and wanted more. So why not give them what they want!.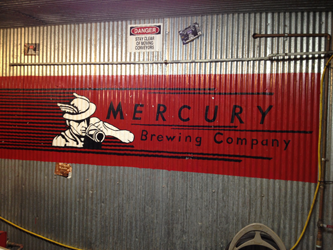 Clown Shoes was born as a brand and has come to mean a lot to Gregg on a lot of levels. Clowns are questionable, but the shoes make you laugh. They remind you about humanity and to find humour in life. Their mission now is to produce the beer without pretension while being free and a little crazy.

In a short space of time they have done a great job with a line-up of beers which Rate Beer consistently rates in the high 90's. A broad mix of styles and lots of experimentation goes into their creation.

Our tasting session in Boston was fantastic, with the first stop being the Sunset grill with over 125 beers on taps and 100's of bottles. A full selection of Clown Shoes and other great beers to try. The guys are great and love their beer and Matt, who made me feel right at home, is a man that really knows his beer and even has a title to prove it.

These are great beers and will finally be enjoyed in oz in their best condition. expected availability is end of Q1 2013

'Clown Shoes website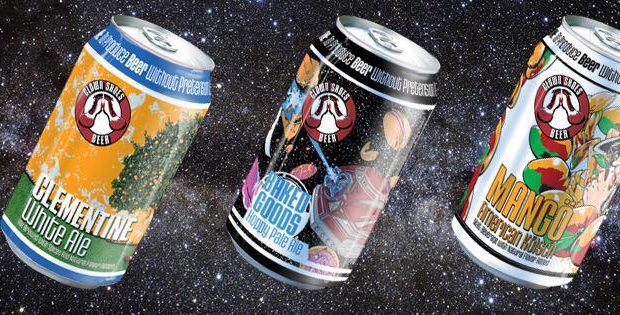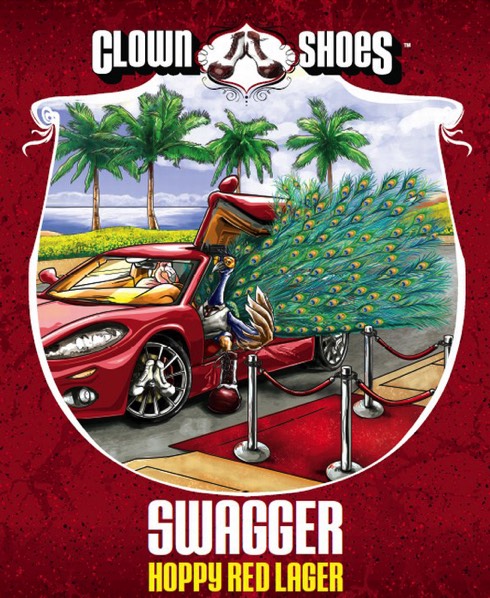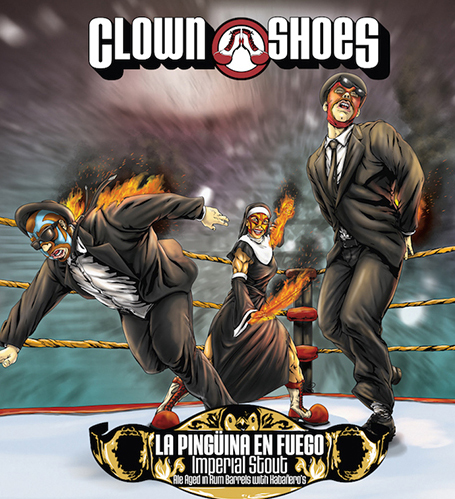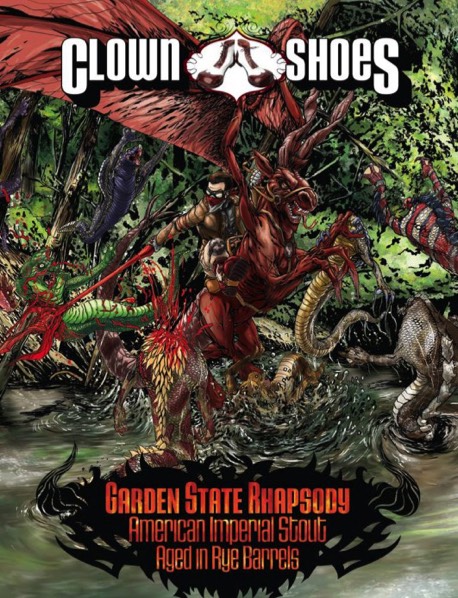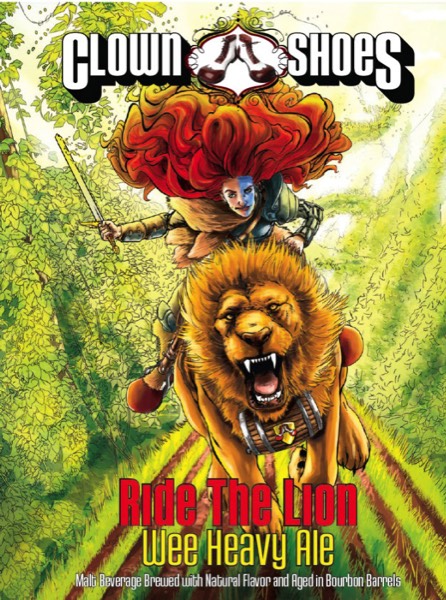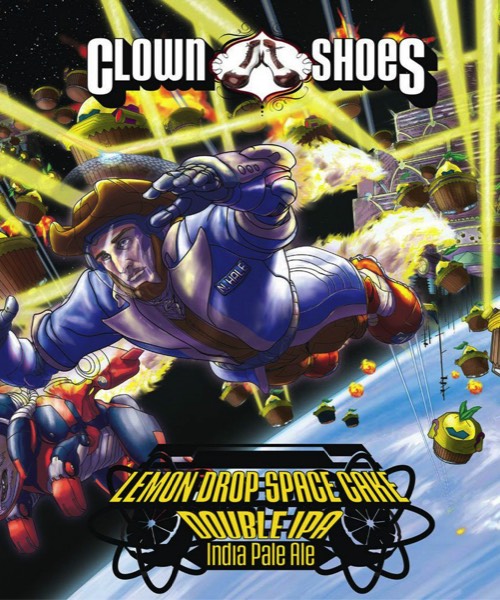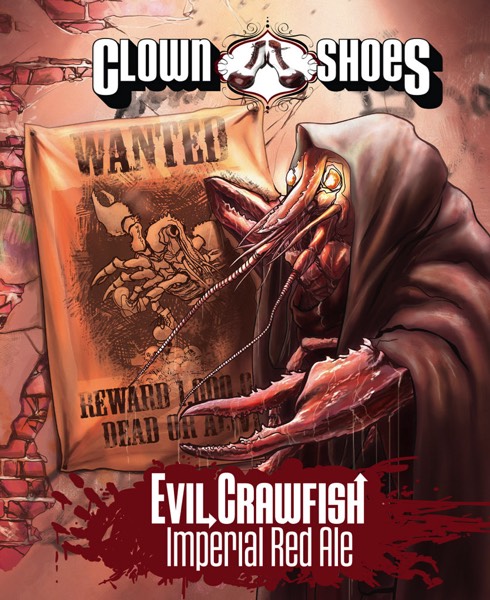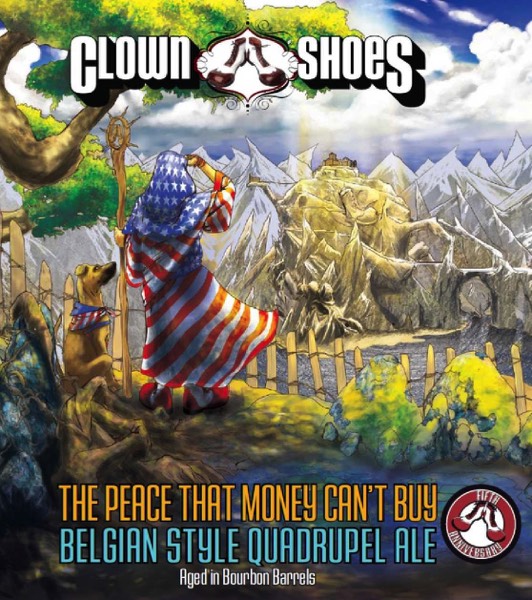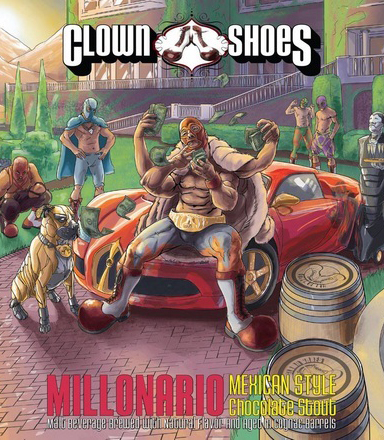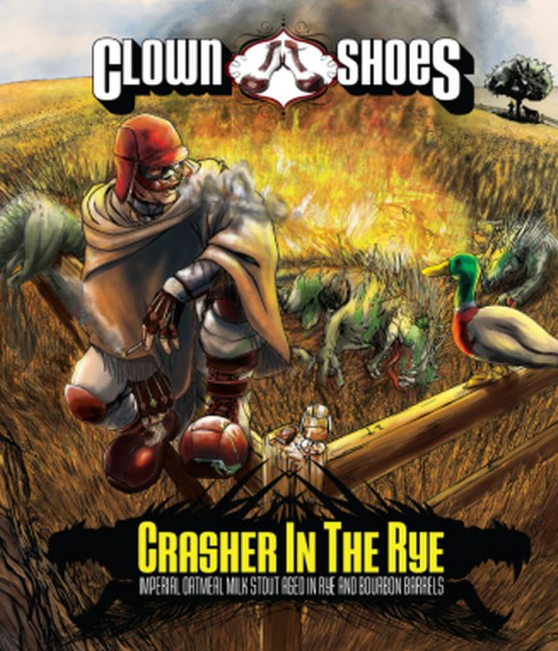 Enter the name for this tabbed section:
Prairie Artisan Ales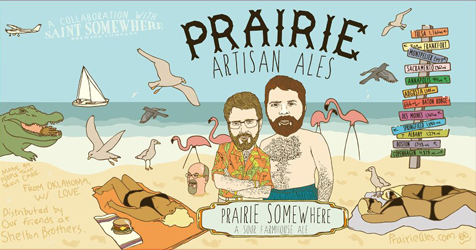 At Experienceit we love Farmhouse!!!


Our research into new beers never stops and in the course of this we started seeing lots of tweets and ratings news about this cool new Farmhouse brewer coming out of Oklahoma. A couple of months after first looking into them we sent them a message and thankfully they really wanted to get their beers down to Australia. Then not long after all of a sudden we started seeing them doing collaborations with a number of our Italian brewers. So about the company
Welcome to the world of Prairie Artisan Ales.
A company started by two brothers, and in their words, they didn't start it due to a lack of good beer, or whatever people like to say in this part of their website. They wanted to do something that was awesome. They had the talent, and most importantly the years of experience needed to get it done. So they did it. They funded the company on their own, and only want to work with people that care about beer, super good beer. Their goal is to show people what is possible when you start with "step one".
Now for those of our customers that love Jester King, then you will love these beers. Like Jester king they love to barrel age and experiment with the farmhouse style that has become so popular in the US. If you checkout their beer scores on Rate Beer, you'll see they are pretty dam good at it as well with a couple of perfect scores. Rather than have a large core monthly range expect to see monthly seasonals and limited releases that will be available while stocks last only.

Unfortunately like a lot of the great American brewers, their beers have been brought in on the grey market via lazy importers that can't source them or go to the effort to get them direct, but as people know thats not our style. After a lot of emails and calls, we finally have the green light to get stock and from March 2014 this great range of beers which will hopefully grace our shores on a regular basis direct from the brewer. Available in both 30 litre ecokegs and bottles.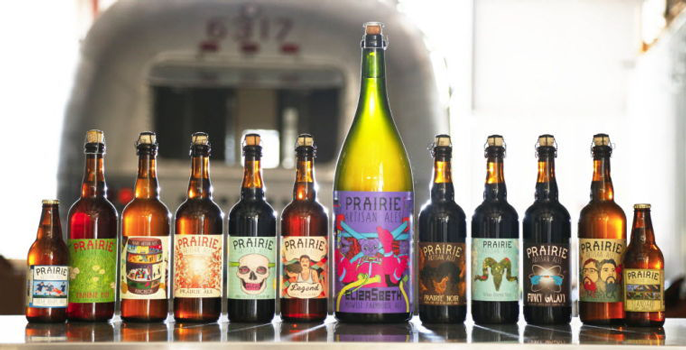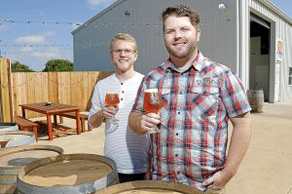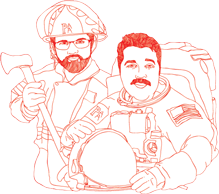 Enter the name for this tabbed section:
Jester King
On our never ending search to find truly unique and fantastic examples of global craft, we came across a brewery that embodies what craft beer should be, uncompromising, creative and full of passion…
Jester King
. We had the pleasure of spending a full day at the brewery with the team behind the beers, Ron and Brothers Jeff and Michael the original brains behind the venture. When you hear the word farmhouse brewery, you can't imagine how amazing this brewery is, with a setting that is fantastic and full of atmosphere surrounded by farmland that reminded us of being back home in Oz. The brewery itself is in an old machine shed that they found in another part of the country. They disassembled it and transported it back to Austin to establish their brewery, and trust me, this is a real shed, with no flashy interior (its awesome!) Described by one reviewer as "a mix of rustic charm and industrial minimalism"

Our day turned into a night with a full list of very enjoyable beers and a pizza cooked on-site in another of the old shed that they have turned into a function area and small pizza shop and bar for visitors to enjoy (operated by the landlords of the property they rent).Pizza was great, and the beers….wow! Not all the beers will be to everyones liking, but
thats
the point!, These guys don't make beers for the masses, they make the beers they love and enjoy themselves and beers that a true lover of craft beer will appreciate. They make beers that push boundaries and deliver a unique experience. And that's what we love!

If you ever get to Austin Texas, then you must do 2 things, 1. head to Rainey Street in the heart of town for a selection of old historic bungalow style houses turned into bars with hundreds of beers on tap (the best bar strip we have ever seen) and 2. the absolute highlight!, a trip to Jester king on a Saturday morning from 1 for tastings and a good feed at the pizza oven. $10 for a glass and 6-8 different beers to try.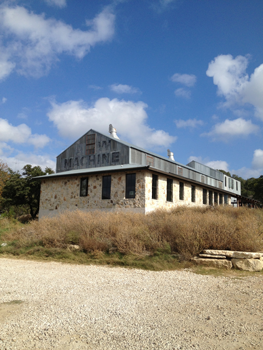 Located in the beautiful Texas Hill Country,
Jester King Craft Brewery is an authentic farmhouse brewery committed to making artisan ales of great depth and character. Like the small, farmhouse breweries that inspired them, they seek to embrace nature and local terroir in our brewing, giving their beers a true sense of place. They draw water from a well at the brewery to make their beer and at times call upon naturally occurring yeast from the Texas Hill Country to shape their unique flavours. They use as many organic ingredients as possible with the majority of their beer being USDA Certified Organic. If you want a beer made quickly then your also in the wrong place!, they don't rush beer to market, but instead allow it to mature naturally – often in oak barrels – prior to re-fermentation in the bottle, cask, or keg.

All round this was one of our most pleasurable brewery experiences we have ever had. The guys made us feel extremely welcome and the long trip from our home in Italy was worth it just to see for ourselves this truly amazing brewery.

Availability: As we said, this is not a mass production brewer. These beers are special and take time to make. Don't expect these beers in our range every month. They are special in every sense and will only be available on limited supply, so when you see them, don't waste time, pre-order straight away! First shipment is still to be confirmed so stay tuned..

Jester King web site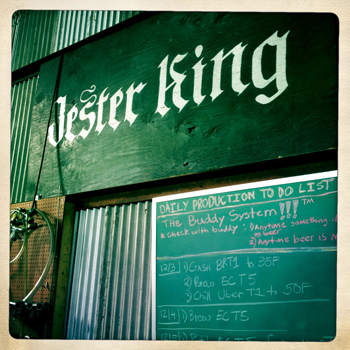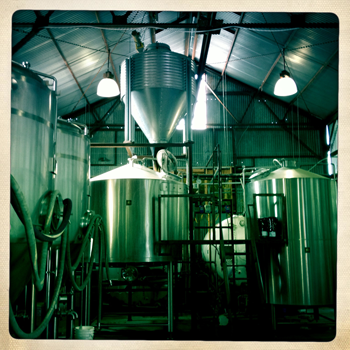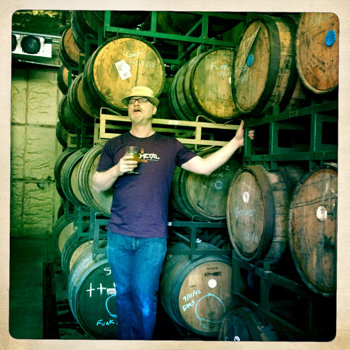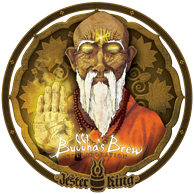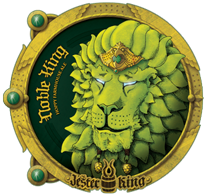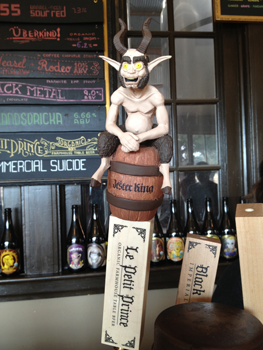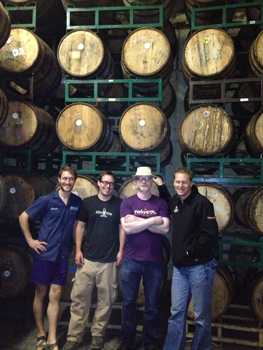 Johnny with Ron, Jeff and Michael (right to left)
Enter the name for this tabbed section:
The Bruery Terreux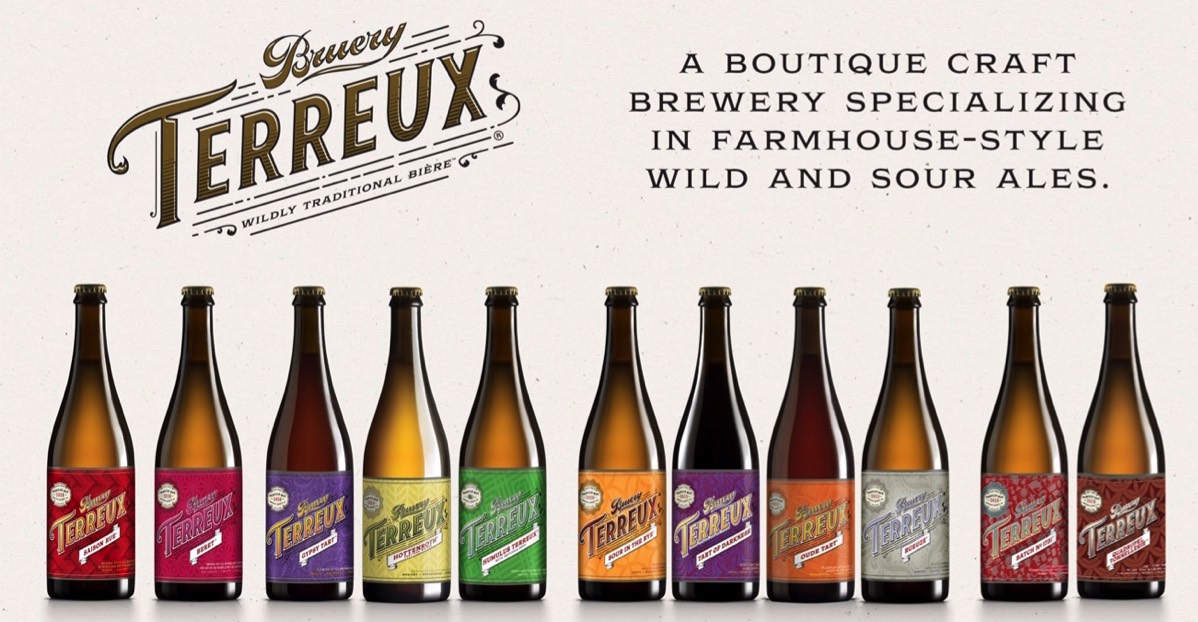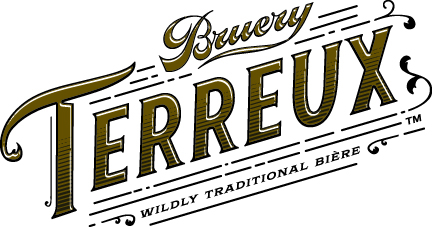 The sister brewery to The Bruery, but with a very unique and different focus
Bruery Terreux® is a boutique craft brewery located in
Orange County, CA specializing in farmhouse-style wild and sour ales. Bruery Terreux is rustic, traditional, familial, yet innovative and independent in spirit.
Founded on an exciting revitalization of age-old traditions blended with current culture and newly forging practices,
Bruery Terreux tells the story of wildly traditional bière™.
Bruery Terreux, which loosely translates from French to "Earthy Bruery" was developed by Patrick Rue of The Bruery® as a space to focus on and experiment with wild beers. While The Bruery had been creating such beers since their foundation in 2008, this new opportunity provides a dedicated space, equipment, and most importantly, staff to concentrate upon and go further within the process than ever before.
Bruery Terreux is founded on the excitement that Patrick and our team felt while creating wild ales under The Bruery's moniker and we continue to strive for that same passion in every aspect of our business today. We never stop challenging ourselves to develop distinctive & imaginative beers, constantly pursuing improvement in all that we do. We plan to brew dozens of original beers each year with our list of ingredients and inspirations growing perpetually. We are inspired by the old world and many of our techniques remain similar to those farmhouse brewers of Belgium or France, but our innovations for quality and creativity never cease.
Enter the category for this item:
Belgium

So we know Belgium is one of the spiritual heartlands of beer, but we always struggled to find one we liked. Finally after a summer long weekend trip to an Italian beer festival in the countryside, we found 2. Both highly recommended by our current brewers. They made the trip over the mountains to take part in the festival and both wanted to have their beers down under. The first of these will land from Feb 2014 and the 2nd will follow shortly after. Classic Belgium, exceptional and true to style.
Our Belgian Brewer Partners
Enter the name for this tabbed section:
De Ranke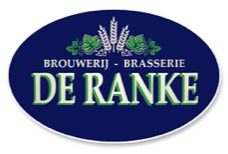 The brewery was founded in 1994 by Nino Bacelle under his own name. In the beginning we had only one ale, the Guldenberg, named after the Guldenberg Abbey in Wevelgem, where beer was brewed in the past. With a history in the beer world (since 1930 the Bacelle - Noffels family was active in beer commerce and as a lemonade producer), Nino had started experimenting with brewing ale in 1981. After an education as brewer at the CTL in Ghent in the mid eighties, he kept experimenting and in the nineties he thought his time had come (and his ale was good enough) to commercialize his ale. After a decent study of the possibilities to start his own brewery, he decided to start with brewing in a existing brewery. The good thing about this formula is that it's possible to brew profitable without big investments. The Deca brewery is Woesten was chosen to do this and in the first year 9000 litres of Guldenberg were brewed.

Mid nineties Nino got to know Guido Devos trough the beer tasters association HOP. Guido is a founding member of HOP and had been active as an amateur brewer for years. In 1996 they decide to bundle their powers. "Brewery Nino Bacelle" becomes a BVBA of which o both own a fifty percent share and is now called "Brewery De Ranke". The name came from the hop ranks and has been chosen because we are convinced that hops are the most important ingredient in our ales. Since then 5 new ales have been created: Père Noël, a Christmas ale; XX Bitter, the most bitter ale in Belgium and the ale that gave our brewery it's reputation; Kriek De Ranke, a natural fruit ale; Cuvee De Ranke, an ale of mixed origin with Lambic and the Noir De Dottignies, a dark ale.

After 11 years of brewing at the Deca brewery a totally new brewery was started in Dottignies in the province of Hainaut. In 2008 about 2000 Hl (200.000l) of ale was produced of which 60% is being exported to the US, India, Japan and in Europe to The Netherlands, Great – Britain, Sweden, Denmark, Italy, Austria & France.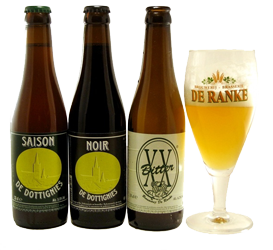 Enter the name for this tabbed section:
De Glazen Toren
Its been a while coming but as of Feb 2014 we finally have a Belgium brewer in our range. We initially didn't want to follow the trend of other importers and chase the Belgium beers as we wanted to showcase the best of the new world markets. But the more we appreciate beer the more we wanted to add in some examples of beers from every core beer drinking market. After a long search we finally came across De Glazen Toren at a beer festival in Italy during the summer of 2013. A recommendation by one of our Italian brewers, a few sample beers and a chat later and off we go with our newest brewer. A great range of classic Belgium styles made by a true master
The new brewery
De Glazen Toren
officially opened on 11th November 2004, but there had been a long previous history. In 1988
Jef Van den Steen
from Erpe-Mere and
Dirk De Pauw
from Aalst discovered they had a common passion : BEER They met at the town hall of Erpe-Mere : Jef, master in mathematics, was an alderman there and Dirk, master in law, was the newly appointed town clerk. Together they started experimenting as hobby brewers in a kettle of 50 litres, but they soon realised that more know-how was needed in order to brew good beer. A sound theoretical knowledge was a necessity. The two enrolled for a three-year training course (1991-1994) "Brewery, Malting and Fermentation industry" at the CTL Institute in Gent.
Now being qualified brewmasters - both had graduated summa cum laude – the quality of their experimental brews improved in a spectacular way. They started dreaming aloud of a brewery of their own. But between dream and deed there were practical objections : the necessary equipment and a suitable location.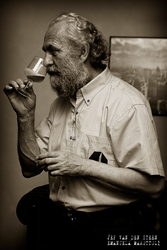 After a long search the basis of the installation was found and bought in Galmaarden where brewery Meesters had closed its doors. Then they started to look for an industrial building in Aalst, but eventually the installation was set up in a newly built property at the Glazentorenweg in Erpe-Mere (hence the name of the brewery) In the fall of 2002 Dirk and Jef were joined by Mark De Neef, head librarian in Aalst and master in Dutch and English languages. On 1st January 2004 the three started a limited liability company. The arrival of the third partner brought more scope to the brewery. The installation was completed and with the necessary excise duty licenses in the pocket the first beer flowed from the 5hl installation in August 2004. Brewery DE GLAZEN TOREN was born.
The first beer of the brewery "Saison d'Erpe Mere" was soon followed by the tripel "Ondineke". As the success of the beers was growing, increasing the productivity became a must, especially when the export to the USA started, later followed by orders from Japan. If the growing brewery wanted to keep pace with demand and sales the brewing equipment of 5hl was totally insufficient. In the meantime a winterscotch "Canaster" and a 4 grains double white beer "Jan de Lichte" had been added to the assortment. In the course of 2006 the complete infrastructure of the brewery was renewed. New cilindro-conic yeast tanks of 22 hl and a new warm room were installed. A brandnew German brewhouse with a capacity of 25hl per brew which became operational on 15th January 2007completed the brewing expansion. Now filling kegs of 20 litres is being considered and worked on.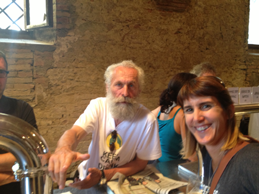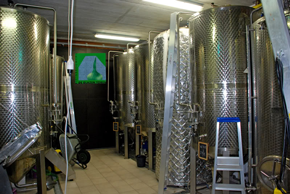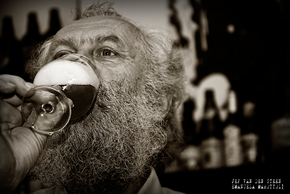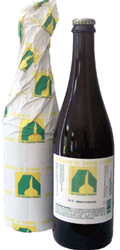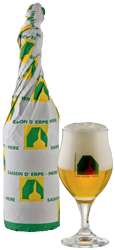 Enter the category for this item:
New Zealand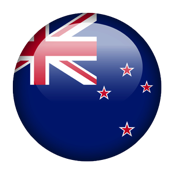 New Zealand has long been known as the Scandinavia of the Pacific, with an incredibly diverse and edgy beer scene that left its bigger cousin for dead. It took us a number of years to find the right local brewery partners and eventually our persistent paid off and now New Zealand forms a core part of our portfolio with a range of exciting new NZ craft brewers in our portfolio. A continued focus will see this part of our category grow as we search and add in more great brewers from the Island of the long white cloud.
Our New Zealand Brewer Partners
Enter the name for this tabbed section:
Deep Creek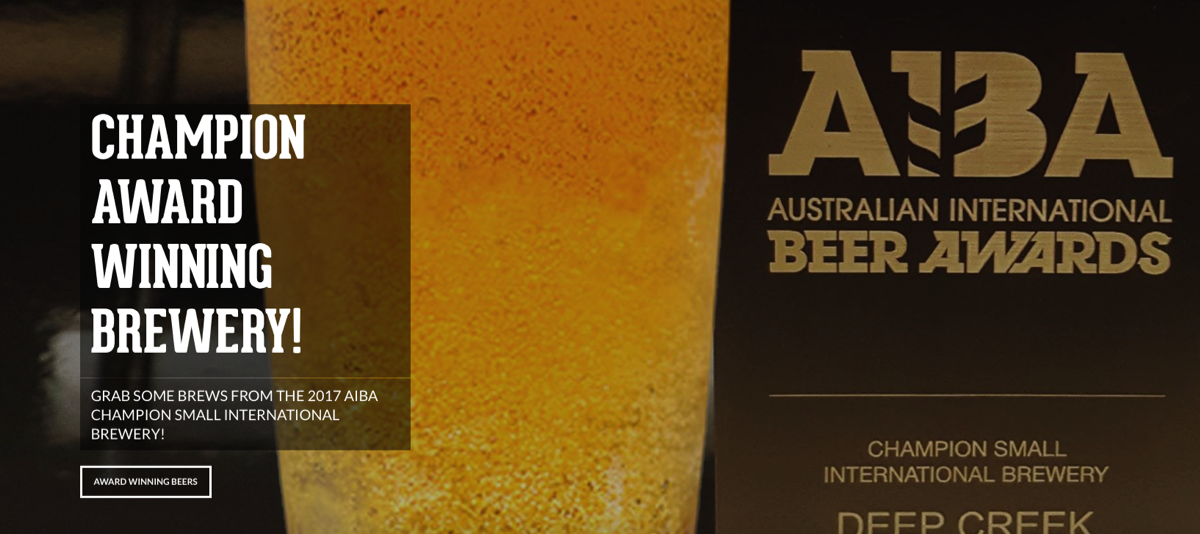 Deep Creek was born on long term friendship and a burning desire to produce flavour fuelled handcrafted beer and bring it to the kiwi masses to enjoy.


Influenced by the wide and varied flavours of craft beers around the globe, from village breweries in rural England to monasteries in Bavaria and alpine craft bars in the Rocky Mountains, Jarred and Paul started brewing their own beers, with a kiwi twist.

Spending their evenings creating flavour fuelled brews which were tried, tested and enjoyed with friends and family in the backyard on Auckland's North Shore and a few home brewer awards under their belts, the guys decided it was time to bring their beer to the public and so Deep Creek brew pub was launched in 2011.

Knowing nothing about hospitality was a daunting prospect but through a stroke of luck the guys met Scott, who had had a long and successful career managing and operating bars around Auckland. They teamed up to establish the brewpub, which included many late nights taste testing brews. At long last Deep Creek Brews and Eats was ready for action!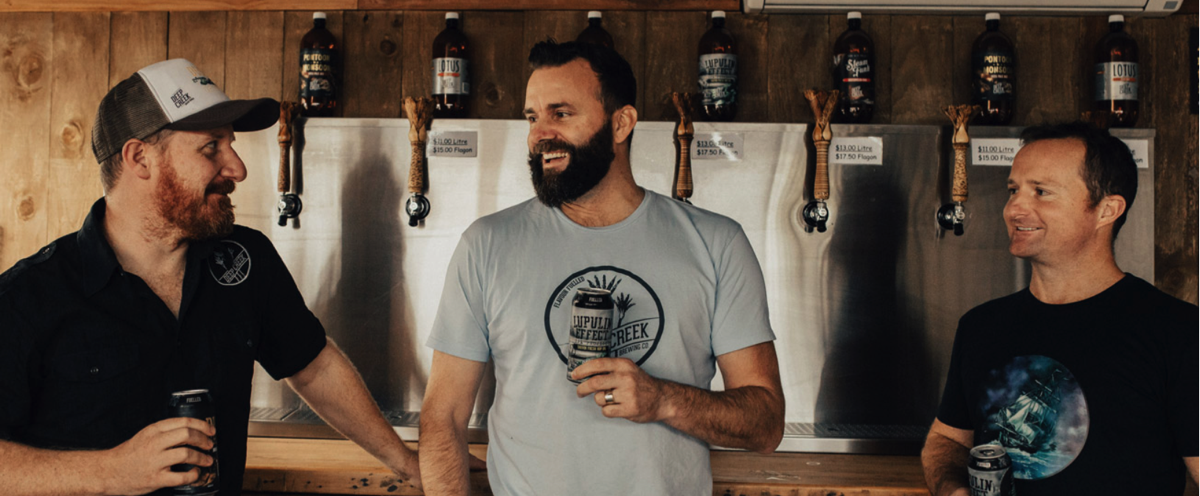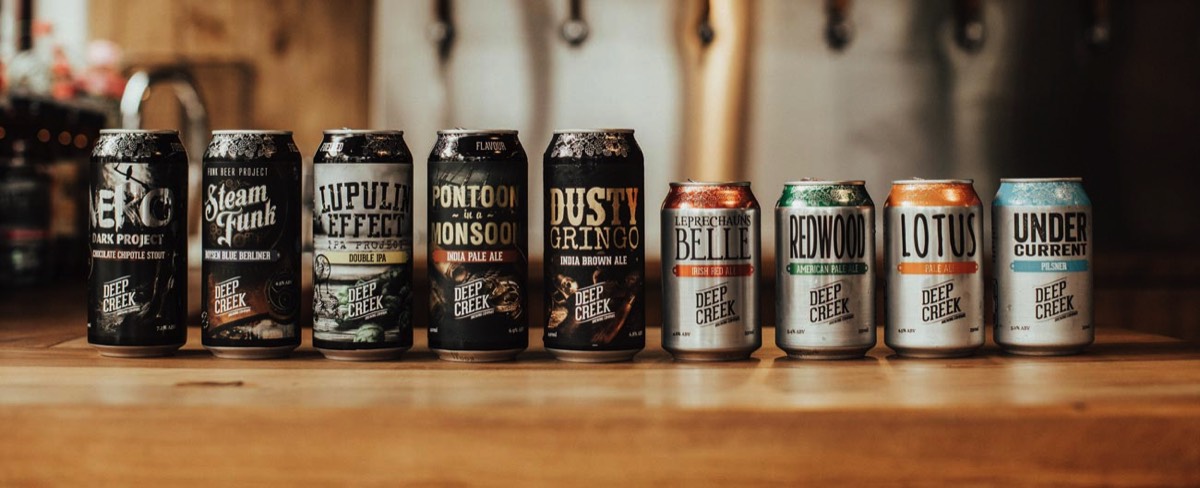 Enter the name for this tabbed section:
Yeastie Boys NZ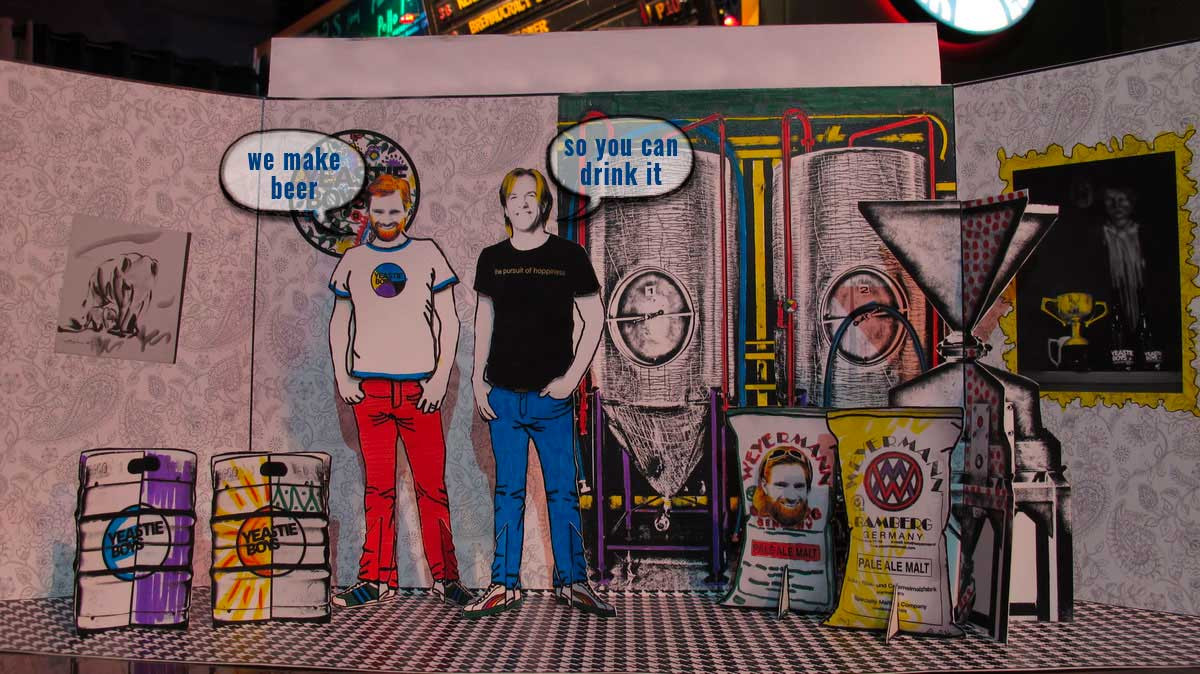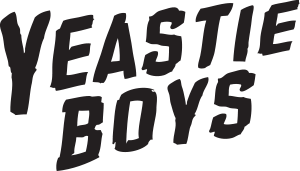 Yeastie Boys are a Wellington-based brewing duo (without their own brewery) who have been amongst the leading innovators during the recent rise of craft brewing in New Zealand. The brainchild of Stu McKinlay and Sam Possenniskie - two of New Zealand's most prominent beer activists - the Yeastie Boys have spent the last seven years picking up trophies, receiving critical acclaim from around the world, and proving to even the most cynical beer geek that contract brewing really can result in great beer.

THE YEASTIE BOYS - STU MCKINLAY AND SAM POSSENNISKIE ARE THE DYNAMIC DUO OF NEW ZEALAND'S CRAFT BEER SCENE.
THEY BURST ONTO THE BEER LANDSCAPE WITH TWO TROPHIES FOR THEIR FLAGSHIP PORTER POT KETTLE BLACK AT BREWNZ 2009 AND HAVE REMAINED FIRMLY ENSCONCED THERE EVER SINCE.
THE YEASTIE BOYS SAY THAT THEY STAY AHEAD OF THE GAME BY BEING FOOD AND DRINK LOVERS FIRST AND FOREMOST AND POSTMODERN CRAFT BEER CULT HEROES ON THE SIDE.
About Boxes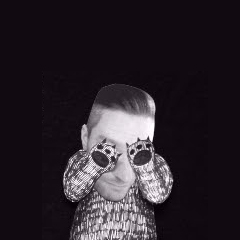 STU MCKINLAY

Creative Director
Founder, head boy (and occasional wearer of brightly coloured pants) Stu McKinlay is the fire-starter at Yeastie Boys. He oversees everything from the design of the beers, through the naming and conceptual design of the packaging and marketing collateral, to market development and publicity. He's also often picked as a spokesperson and poster boy for the craft beer scene in New Zealand. While he has twice held roles on the executive committee of the Brewers Guild of New Zealand, Stu prefers his benevolent dictator role at Yeastie Boys.
End About Box About Box
About Icon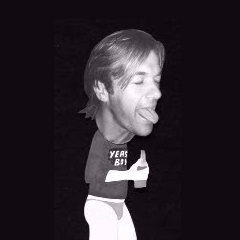 SAM POSSENNISKIE

Directive Creator
Founder, and occasional grower of outrageous beards, Sam Possenniskie is the rock of Yeastie Boys. For every fire started by Stu, Sam is on the lookout to see if a moderate dousing needs to take place. Sam's 20-plus years in the banking sector, and MBA to boot, sees him perfectly schooled to oversee the finances, logistics, and commercial wheeling and dealing. He is a safe and trusted pair of hands, has a well respected palate, and is known to surprise people with fine public speaking when Stu lets him get a word in.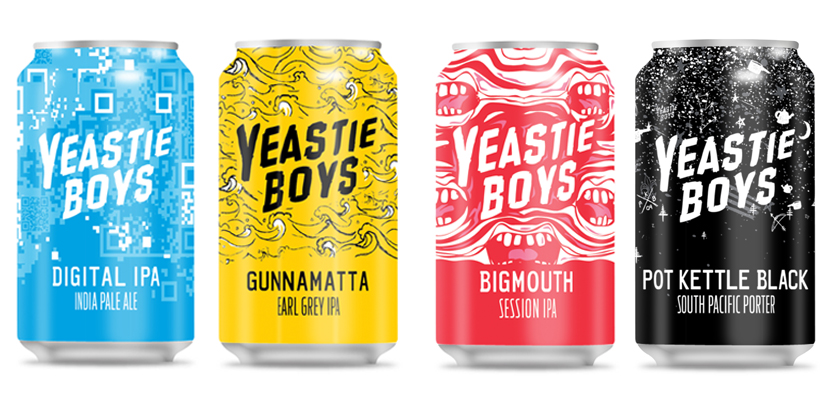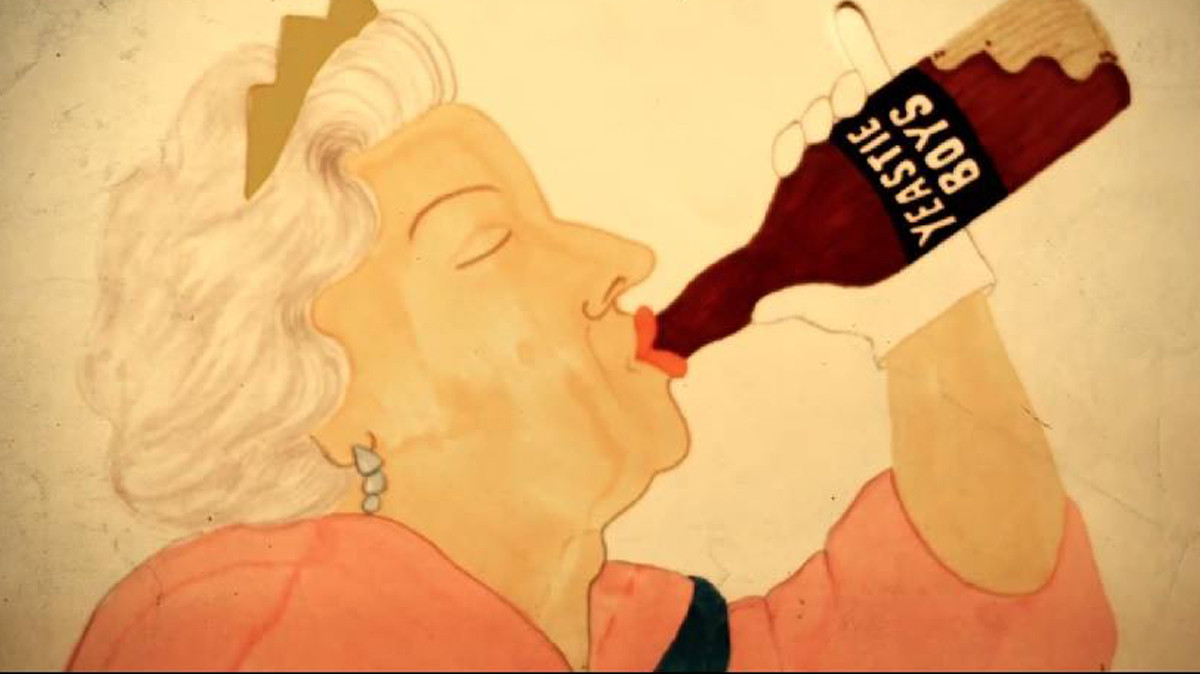 Enter the name for this tabbed section:
Zeffer Cider

Their JOURNEY BEGAN ON SAM'S PARENTS FARM IN 2009 WHEN SAM DECIDED TO TRY HIS WINE-MAKING HAND AT MAKING CIDER. AFTER EXTENSIVE RESEARCH WE KNEW THE STYLE OF CIDER WE LIKED BEST. NOT JUST ANY OLD 'MADE FROM CONCENTRATE' CIDER, WE WANTED TO MAKE REAL CIDER FROM REAL FRUIT WITH PATIENCE, CRAFT AND QUALITY.
We knew that the final product would taste its best if we started with the best ingredients so we scoured the country to find specific apple and pear varieties from orchards around New Zealand.
After long wintery nights crushing, an exploding fruit press, experimental brews and many hours spent hand bottling we had
our first batch ready for release in the Spring of 2009. We sold it exclusively through our local Matakana Farmers market and were rewarded with great feedback, eager buyers and steady growth which ultimately allowed us to build our own cidery. And, while we are now the proud owners of a shiny new fruit press we remain faithful to our simple vision and ethos of making cider that we are both proud to put our name on and love to drink.
Our ciders are fermented in small batches and made with minimal intervention that allows the natural flavours and true character to shine without the use of any artificial colours or sweeteners. We love what we do and we love that we get to share it with you.