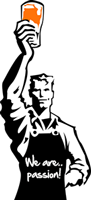 Our beer support programs are designed to reward our retail and venue partners that want to get behind our brands and commit to a regular supply of fresh beers from the brands listed below, in return for extra special pricing and deals on each brand.
The aim is to make supporting your favourite brand easier and more rewarding.
Its our way of building brands and giving back to those that help make our brands even stronger!
Joining a selected brands program delivers some of the following benefits:

Special member pricing / Discounts on all orders.

Guaranteed new beer allocation

Access to limited offers

Free beer offers.

Tap Handles - When available and for on-licence venues

Glasswear - When available

First access to new beers and limited releases

Access to brewers for events

Brand specific newsletters and information.

A customised level of service and support for these chosen brands.

The following brands each have their own unique programs you can benefit from



After even more support?…
We can also help support our brands through a mixture of the following:

Unique point of sale development

Category management planning and range curating

Tap system installations

Fridge unit installs and management
Send us a mail using the form below to express interest in one of our programs.